Description
This well- maintained property offers a versatile space suitable for a range of businesses, providing a conducive environment for productivity and growth.
The building spans 1960 square feet, providing ample room for operations, meetings, and collaboration. The office building is a modern, multistory structure built on pile foundation designed to accommodate various businesses and professional organizations. It boasts a sleek and contemporary architectural design, with large windows that allow ample natural light to fill the interior spaces.
The first floor boasts a well- designed layout, featuring spacious work areas such as:
Waiting/ Reception Area: Upon entering the office building, visitors are greeted by a spacious waiting area. It features polished tile floor, comfortable seating arrangements, and a spacious reception area where a friendly receptionist can welcome guests and attend to their needs.
Conference Room: The ground floor offers a spacious conference room with a huge exquisite mahogany table and cabinets that offers ergonomic seating. It is an ideal space for meetings, presentations, and collaborative discussions.
Restrooms: the restrooms are strategically placed in the ground floor of the building, the first one is located in the waiting area for customers usage and the second one is located in the hallway area for employees.
Break Room: the ground floor of the building offers a kitchenette that provide employees with a place to relax and recharge. The kitchenette has comfortable seating with mahogany cabinets and counter space for dining, it also includes appliances such as microwave, water cooler and refrigerator.
Office Space/ Storage room: the ground floor has 2 separate room varying in sizes. The smaller of the two room is located behind the reception area and is used to store files. As for the other room, it can be used as another office space.
Throughout the Second Floor layout, there are 3 individual offices along with the Executive Office that offers privacy and a dedicated workspace for employees. The Executive Office offers its very own personal restroom. The Offices are furnished with mahogany desk and shelves unit. The Second floor also cater to the operational needs of the businesses housed within, it offers both a server room for IT infrastructure/ Electrical equipment and a separate Storage area for supplies and filing cabinets.
The entire building is equipped with state of the art amenities, such as high speed internet connectivity, ac units in every room, water pressure pump, recessed lighting, wheel chair access and ample parking facilities for both employees and visitors.
Your business's safety is paramount, and this property ensures peace of mind with advanced security systems, including surveillance cameras and secure access controls. The property is fenced all around with a mixture of concrete and chain link combination, and with a vast Sliding steel gate at the entrance of the property.
Key Features:
– Located 3.5 western Highway
– Pile foundation
– Concrete structure
– Fenced and filled
– Furnished
– Air conditioned
– Secure with camera system and burglar doors
– Secure driveway and parking
– Wheel chair accessibility
Property Id : 2475
Property Size: 1,960.00 ft2
Property Lot Size: 8,514.00 ft2
Markers: Yes
District: Belize
Floors: Two
Lot Size: 57 x 154 x 64 x 146 ft.
Filled: Yes
Other Features
Air Conditioning
Cable/Satellite TV
Gas Station
Grocery/Hardware
High Speed Internet
Municipal Power
Municipal Water
Paved Roads
Public Transportation
Taxi
Principal and Interest
Property Tax
HOA fee
Other Agents
Sales Agent
Property Reviews
You need to
login

in order to post a review
Similar Listings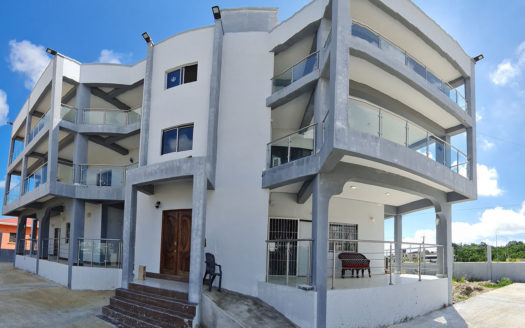 Featured
Sale
Active
Price Reduction
BZ$ 2,300,000
PRICE REDUCED FROM $2,7000,000.00 BZD. Exclusively listed with MRE is this newly bu
...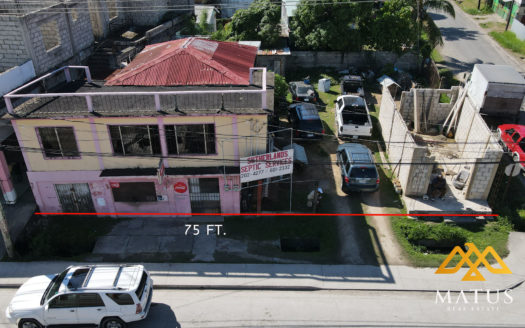 BZ$ 265,000
Situated on one of Belize's busy thruways is this mix used property offering both re
...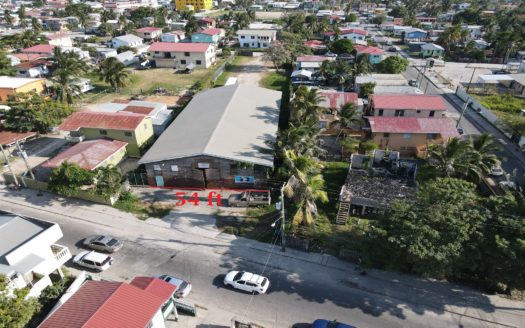 BZ$ 995,000
Strategically located in one of Belize City's demanding commercial zones with close
...
BZ$ 425,000
Located on Samuel Haynes Crescent, Belama Phase 1, Belize City is this income generating M
...